Dental Sedation in Chattanooga, TN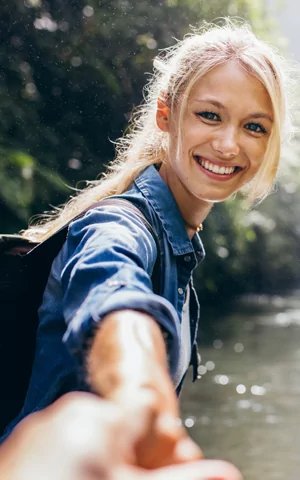 We know that going to the dentist can be stressful. Many Americans, children, teens, and adults, experience some degree of dental anxiety. If you're among this group, remember that you are not alone!
In our office near Dayton and South Pittsburg, we do everything we can to ease some of that anxiety. A major part of a stress-free dental visit involves sedation dentistry.
What Is Sedation Dentistry?
Sedation dentistry involves using medication to help you relax and feel at ease while you're undergoing dental treatment. Dental sedation is excellent for people with a fear of the dentist; it helps them receive the dental care they need.
Patient Comfort at Chattanooga Center for Comprehensive Dentistry
At Chattanooga Center for Comprehensive Dentistry, we prioritize alleviating dental anxiety and ensuring patient comfort. We practice gentle dentistry, taking the necessary time to perform procedures right and keep you relaxed.
We offer oral conscious sedation for those with dental fear, ensuring a stress-free experience. Our office provides numerous amenities like TVs, neck pillows, cozy blankets, memory foam chairs, and headphones to transform your visit into a serene, comfortable event.
We're dedicated to making your dental visit as soothing and relaxing as possible, delivering truly world-class dentistry in a serene environment.
Oral Conscious Sedation
We offer oral conscious sedation at our Chattanooga dental office. Oral sedation takes the form of a pill, given before a dental procedure. Oral sedation is a simple way to relax in the dentist's chair and feel more at ease during your treatment while remaining conscious and comfortable.
An hour before your dental appointment, you'll take a prescribed medication. By the time you get to the appointment, you'll be feeling nice and at ease. You will need a ride to and from your appointment while on oral sedation, but it is an excellent way for many patients to conquer anxiety and receive quality dental care!
Dental anxiety is no reason to avoid visiting the dentist. We will do everything we can to make your visit with us a pleasant one.
Why Choose Chattanooga Center for Comprehensive Dentistry
At Chattanooga Center for Comprehensive Dentistry, we provide sedation dentistry to keep you comfortable during the entire treatment so that you get the care that you need. We strive to create a compassionate and anxiety-free atmosphere that focuses on protecting your oral health at the same time.
Benefits of Sedation Dentistry
With sedation dentistry at Chattanooga Center for Comprehensive Dentistry, we strive to make your dental procedures as comfortable and anxiety-free as possible. There are many benefits of sedation dentistry, from easing fears to ensuring smoother procedures.
Anxiety and Fear Reduction
Many people have dental anxiety, and it leads them to avoid the dentist's office. When people don't go to the dentist regularly, it can lead to cavities, gum disease, and other problems. Whether it is a routine visit or a dental treatment, we want our patients to feel comfortable taking care of their oral health.
Oral conscious sedation can create a relaxed feeling while you stay conscious and aware during an appointment. You do not need to feel fear or anxiety with our dental office, especially when dental sedation is available.
Phobia Management
There is dental anxiety and then there is a dental phobia. Phobias make scheduling with a dental office extremely difficult, let alone getting treatment. Sedation dentistry is a great way to train yourself to overcome your dental phobias. Take an oral sedation pill before your next appointment and watch all your fears melt away. Gradually, scheduling appointments will get easier.
Gag Reflex Control
A main part of dental treatment is having dental tools working in your mouth. This can cause people with a sensitive gag reflex to have an uncomfortable time in the dental chair. Luckily, sedation dentistry can help with this issue, allowing dental services to go smoothly and comfortably.
Lengthy or Complex Procedure Accommodation
One benefit of sedation dentistry is that with you feeling nice and relaxed, we are free to perform multiple procedures at once. When we combine procedures, you'll have fewer appointments and you'll get all the treatments you need over with in one go!
Oral sedation is also great for long or complex procedures. It can be hard to hold your mouth open for so long, but sedation dentistry can help.
Eliminating Your Fear of the Dentist
Embrace a new, calmer dental experience with oral sedation at Chattanooga Center for Comprehensive Dentistry. Oral sedation offers a gentle approach to combat dental fear, allowing patients to gradually overcome anxiety and build positive dental experiences. It's time to shift your perspective on dental visits from stressful obligations to opportunities for improving your health and confidence.
Popular Services Where Sedation is Used
Sedation dentistry can be used on a lot of dental procedures, some of the most popular treatments that use sedation are:
Dental Implants.
Wisdom Teeth Extraction.
Full Mouth Reconstruction.
Root Canal Therapy.
If there is a dental service that you want that is not on this list, you can ask our dental team if sedation dentistry works for that treatment.
Get Anxiety-Free Dentistry at Chattanooga Center for Comprehensive Dentistry
Don't let anxiety hinder your oral health. Reach out to us today to learn how our compassionate team can provide you with a soothing and beneficial dental experience. Your journey to a healthier, brighter smile is just a phone call away!