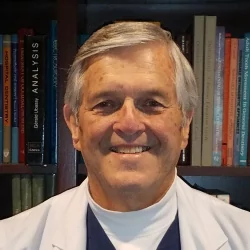 Dr. Paul Carico, Jr. (Dr. Paul) has been practicing dentistry in Chattanooga, TN for 41 years. After receiving an undergraduate degree in chemistry from the University of Chattanooga, he obtained his Doctorate of Dental Surgery and a master's degree from the University of Tennessee Medical Units.
To further his knowledge and expertise in comprehensive dentistry, restorative dentistry, personalized dentures, sleep disorders and sleep sedation training, Dr. Paul has completed extensive post-doctoral work and many continuing education courses. He has studied at the following institutes: L.D. Pankey Institute, Dawson Academy (under Dr. Pete Dawson), Kois Center (under Dr. John Kois), Global Diagnosis and Core Dental Group (under Drs. Jeff Rouse and William J. Robbins), Metz Sleep Center (under Dr. Jim Metz), Stanford Medical Center, Cleveland Clinic, Dental Organization for Conscious Sedation, Turbyfill Denture Center, and Emory University Hospital. He also studied under Edward P. Allen, D.D.S. to learn about esthetics and periodontal surgery, and Dr. Doug Thompson educated him on oral diagnostics, oral medicine and treatment.
Dr. Paul is a member of the American Dental Association, Tennessee Dental Association, Chattanooga Area Dental Society, American Academy of Dental Sleep Medicine, and the American Academy of Operative Dentistry.
To stay updated on the latest treatment techniques and technologies, Dr. Paul attends many annual and semi-annual meetings of the Kois Center Symposium, American Academy of Restorative Dentistry, American Equilibrium Society, American Academy of Operative Dentistry, American Academy of Dental Sleep Medicine, American Esthetic Academy, and the American Academy of Cosmetic Dentistry.
In his spare time, Dr. Paul serves as a member of the Chattanooga Rotary, and he is a Paul Harris Fellow Recipient in Rotary. He is also a member of the Mountain City Club and a past Deacon at the First Presbyterian Church. Dr. Paul has been married to Cheryl Mease Carico for 47 years. They have three sons: Dr. Paul (Trey) Carico, III (restorative dentist and partner); Reverend Nathan Carico (ordained Presbyterian minister); and Seth Mease Carico (professional opera singer in the Berlin Opera). Dr. Paul and Cheryl also have seven wonderful grandchildren: Tristan, Ravyn, Tennyson, Autumn, Weston, Emery, and Ellington. His hobbies include snow skiing, water skiing, boating, wood working, and participating in church and family activities.
Thanks again for considering us for your dental health needs! Feel free to contact us with any questions or concerns that you might have.