Cosmetic Dental Veneers in Chattanooga, TN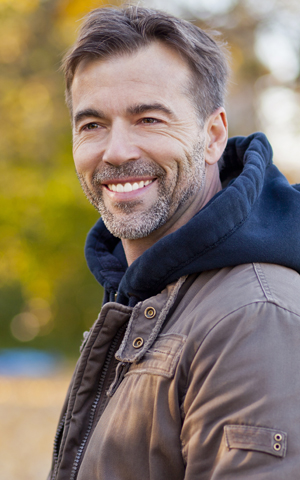 Dental veneers are remarkable dental tools that make it easy to repair a flawed smile. These thin, durable shells are placed on top of your natural teeth. Tooth veneers not only conceal stains or discolorations, but they can also repair chips or correct misshapen teeth!
The Benefits of Veneers
We can match your tooth veneers to the color of your natural teeth, so any spots or stains will be completely hidden. Dental veneers can be shaped to fill in any missing enamel on a chipped tooth, making it possible to restore your smile to its naturally beautiful state.
Dental veneers can physically improve your teeth, but for many people, the real benefit is the increased self-confidence that comes from having a smile they love. With teeth veneers, you won't feel self-conscious about chips or stains. Instead, you'll look forward to smiling for the camera!
The Dental Veneer Process
If you're interested in the benefits of tooth veneers, come and meet with us! We'll talk to you about your dental goals and determine whether cosmetic veneers are right for you. If we decide that dental veneers are a good fit for you, we'll get the process moving quickly. This is how the process will look:
Tooth Preparation: The first step involves the careful removal of a minuscule layer of your natural tooth enamel. This is to ensure that the application of the veneers doesn't render your teeth uncomfortably bulky.
Impressions: Next, we proceed to make an impression of your teeth. This impression is then sent to a dental lab where your custom veneers are fabricated. This process may take a couple of weeks, during which we may provide you with temporary veneers.
Veneer Bonding: On your next visit, we'll check the fit and color of the custom veneers. If everything is perfect, we'll proceed to prepare your teeth for bonding. This involves cleaning, polishing, and etching your teeth, then applying the veneers.
Final Adjustments: Finally, any excess cement is removed, your bite evaluated, and any final adjustments made as needed. Further visits may be recommended to check your gums' response to the veneers and to review the veneer placement.
Our veneers, crafted from superior materials such as porcelain or resin-composite, have an impressive lifespan and require the same care as your natural teeth. Once they are bonded to your teeth, you can rest easy knowing they are firmly in place, offering you a smile transformation that's not just beautiful, but enduring.
Why Choose Us for Your Veneers?
Chattanooga Center for Comprehensive Dentistry is skilled in cosmetic dentistry services, specifically porcelain veneers. We can improve your smile and protect your oral health at the same time. Here are a few reasons why our dental office is a great option for veneer treatment:
Comprehensive Treatment Approach
We don't just offer a single band-aid treatment. We offer comprehensive solutions that will bring you your healthiest and prettiest smile. Our focus is on you. Because we always strive for integrity, you can be confident that you're getting the honest care you need and deserve.
Advanced Technology and Materials
Our dental office uses advanced technology and techniques so that you can get efficient treatment. With advanced technology, your treatments are faster, saving you money, more precise, and providing great results.
Whether it is porcelain or composite resin, we use high-quality materials in our veneers to give your smile long-lasting and natural-looking results.
Am I a Candidate for Teeth Veneers?
Veneers are great for many reasons so if you are thinking of getting veneers then you should schedule a consultation with our dental team. If you have any of the following issues, veneers can solve them:
Chipped or Worn Teeth: Porcelain veneers work by covering your current teeth and restoring the function and appearance of teeth.
Irregular Tooth Shape or Size: Whether your teeth are uneven or misshapen, veneers will create a balanced smile.
Tooth Discoloration: Veneers are resistant to staining so you will not have to whiten your teeth ever again.
Gaps or Spaces between Teeth: You no longer have to worry about a gap or spaces in your teeth with veneers.
If you're unhappy with any aspect of your smile, talk to us about veneers at our Chattanooga dental practice. Stains, chips, and more can be repaired with veneers — with long-lasting results you'll be proud of.
Repair Smile Flaws with Flawless Veneers!
Contact us today to learn more about our veneers, or to schedule an appointment! We provide porcelain veneers to patients all over the Chattanooga area, including Dayton & South Pittsburg.